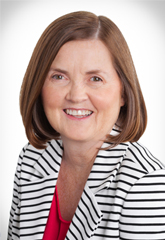 Kathy Ryan knows what it takes to help Silicon Valley startups-including her own-grow and prosper.

Kathy keeps 10 balls in the air without breaking a sweat and thrives on running a business. She started RoseRyan on a mission to let highly savvy finance pros combine challenging assignments with a flexible work/life balance-and the firm has grown beyond her wildest dreams. See what she thinks about building a strong team and learn how RoseRyan is preparing for growth in these interviews for Build.com.

Her wide range of experience, enlightened leadership and drive for developing a talented, high-performing team have been widely recognized. In 2015, the San Francisco Business Times named Kathy as an influential woman in Bay Area business, and in 2012, the San Jose/Silicon Valley Business Journal named her one of the most influential women in Silicon Valley.

Kathy was named to Accounting Today's national listing of the sector's top 10 leaders, known as the Managing Partner Elite. They applauded Kathy's prescience in creating the kind of firm "that so many leaders are struggling to build now that engaged, enthusiastic staff are at a premium."

Kathy was director of finance at Quantum and tax manager at Price Waterhouse before co-founding RoseRyan in 1993 with Sue Macias. In addition to management expertise, her skills include general and cost accounting; tax and SEC reporting; forecasting, budgeting and planning; business finance; and systems planning and implementation.

Formerly a Big Four CPA, Kathy holds a BS in accounting from Santa Clara University. She serves on the finance committee at St. Michael's Church in Livermore. Among her loves: golf, needlepoint and (her guilty pleasure) romance novels.